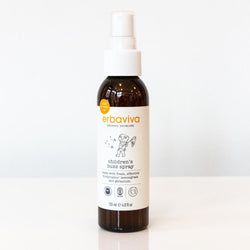 Erbaviva Children's Spray
Organic Buzz Spray is a proprietary bug repelling blend of organic and biodynamic essential oils. This all-natural solution to combat buzzing insects is effective and certified Demeter Biodynamic. Biodynamic farming takes organic a step further viewing agriculture as a holistic system where the soil, seeds, animals, and people are part of an interconnected whole.
Catnip, eucalyptus, cedarwood, citronella, and lemongrass naturally emit a bright citrusy aroma. The Biodynamic certification assures this alternative insect repellent can be used without worry of harsh chemicals and harmful synthetics. A bug spray to defy standard bug sprays.